Post by Trooper on Oct 6, 2008 13:48:05 GMT
Pet Passport Scheme
The Requirements
To bring your dog or cat into the UK under the Pet Passport Scheme, you must follow the following procedure, in strict order:
Before you can go for the first time1.
Have your pet micro chipped so that it can be properly identified.
2.
Have your pet vaccinated against rabies by a certified veterinarian. Your pet must be given a rabies vaccination AFTER it has been micro chipped – there is no exemption to this rule, even if it had a current rabies vaccination before being micro chipped.
3.
A blood sample from your pet must be tested by a certified laboratory and shown to provide a satisfactory level of protection against rabies.
4.
After the Rabies Vacination you must wait 21 days before you can
enter
the UK.
Before you can come back from each trip5.
Your pet must be treated for tapeworms by a certified veterinarian not less than 24 hours and not more than 120 hours before it is checked in with an approved transport company for travel to the UK.
6.
Your pet must only travel with an approved animal transport company and enter the UK on an authorised route.
Points to Remember
• Don't forget to update your contact details on the microchip database before travelling, as this will help reunite you with your pet should it go missing while you're on holiday. We have our FULL UK mobile phone number (example +4477.......) engraved on a collar tag so we can be contacted in which ever country we are in.
• Ask your vet to scan and check the microchip to make sure that it is readable and has not migrated and "got lost". A pet which cannot be identified by microchip will be forced to go into quarantine, even if it has all the correct PETS documentation.
• If your pet has been previously vaccinated for rabies, make sure that you check the "Valid until" date on your PETS documentation and get its boosters done in time. Or you will have to go through the whole procedure and expense again (vaccination, Blood Test and the 6 month wait).
• Make sure you find a vet in a convenient location who can give your pet the necessary tapeworm treatment within the 24-120hr time-frame, before entry into the UK. As a general rule, the nearer the vet is to a Ferry Port the dearer the treatment will cost.
• Ensure that your veterinarian has completed all the PETS documentation, including the date and time of treatment (using the 24hr clock) and the product used, and that the Pet Passport has been stamped.
The last point is
vital
; we have seen cases of people being told they can not return to the UK because the vet has filled in the wrong date or time of treatment. So check and double check that the date and time are correct and that the vet has Stamped the passport
before
you leave the vets.
This is a good web site for more info on taking your pet abroad :–
www.dogsaway.co.uk/index.htm
They can also, for a cost, arrange a vet appointment for you.
This web site seems very informative :–
www.passportsforpets.com/VetsinFrance.htm
How much does it all cost
It's a bit like the old saying 'How long is a piece of string'?
UK
Micro chipping can cost from £10 to £60+
Rabies Vaccination, Blood test and issue of Documentation £120 to £320+
Booster Jabs £30 to £60+
These are the prices we where quoted
today
at a vets in our home town.
Micro chipping £19.99
Rabies vaccination £29.50
Blood test £79.10
Passport document £35.00
Total £163.59
France
Tick and tapeworm treatment €20 to €100+
Here is a break down of the this years (June 08) prices we where charged in Alencon for our 2 dogs.
Incidentally, this is basically the same price we paid in '07 (at the same vet).
CONSULTATION CANINE €25.5
FRONTLINE 3 SPOT ON 10-20 KG €5.78
FRONTLINE 3 SPOT ON 20-40 KG €6.91
MILBEMAX CHIEN x2 €10.66
€48.85 + €9.57 TVA (french VAT) Total €58.42
To up-date this, we used the same vet in Alencon this year 2010
CONSULTATION CANINE €26.67
FRONTLINE 3 SPOT ON 10-20 KG €6.13
FRONTLINE 3 SPOT ON 20-40 KG €12.65
MILBEMAX CHIEN x2 €11.38
€56.81 + €11.14 TVA (french VAT) Total €67.95
How did we contact the vet ?
We had planned to use a campsite near Alencon for our last stop on tour of France.
So we used the French
'Yellow Pages'
to select a vet in Alencon.
We then wrote a letter in English and copied a
'Bable fish'
translation on to it, we also added our Email address.
Then we Faxed this to the vet. 3 days later we had an Email confirming the rendez-vous (Appointment).
A Lot of people use the vet near
Chateau du Gandspette
, at Eperleques, only about 40 mins away from Calais. I think they are a husband and wife partnership - Paulus Jean, 21r Bleue Maison, 62910, EPERLECQUES Tel: 03 21 88 46 00. They speak English, and are used to dealing with English dogs.
Turn Left leaving the site, at the roundabout go left, the surgery is on the Right before the Supermarket.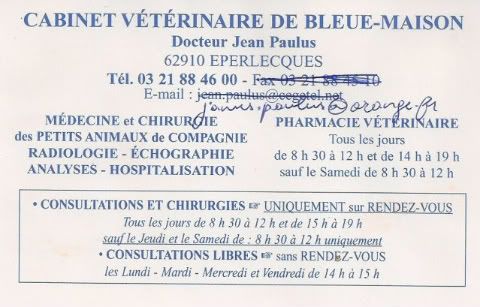 Just had our 2 dogs to the vet (06/10/09) for their Rabies booster £62.60 for the 2 and the booster lasts 3 years.
So
about
£10/year excellent.
If your looking for Foreign Language phrases to use at the Vets, the Defra Website has some suitable ones and can be found
HERE
There's also a good leaflet
HERE
The rules on bringing a Dogs back into the UK changed on 1st January 2012.
Tick treatment is no longer required and the time scale on the Tapeworm treatment has changed to no less than 24hrs and no more than 120hrs (5 days) before return.