Post by (Cazanne) on Jan 29, 2009 11:30:44 GMT
Lorry found hanging out of ferry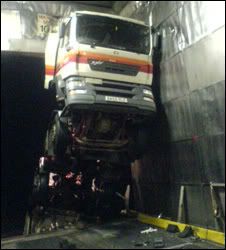 One hundred and fifty six passengers and 33 crew have been stranded overnight on a Stena Voyager just off the port of Stranraer.
The ferry, bound for Belfast, had to return to Stranraer after a lorry was discovered hanging off the back.
Passengers have been supplied with blankets and food. A crane is on its way from the north of England to remove the lorry.
The alarm was raised after a loud bang was heard by passengers.
"The ship then almost came to a standstill," Peter McCrory from Dungannon told BBC News.
"However, we discovered on looking out the rear doors there was a lorry hanging out through the back, it had burst the rear doors."
If the boat had taken in water, it could have been a tragedy
Peter McCrory
Passenger
Mr McCrory said it had been a frightening experience, adding: "If the boat had taken in water, it could have been a tragedy."
The emergency services were alerted to the incident on board the Stena Line HSS Stena Voyager Fastcraft at 2130 GMT on Wednesday. The vessel had left Stranraer at 1950 GMT.
Dumfries and Galloway Constabulary said an articulated tanker broke free and seriously damaged one of the stern doors.
The ship was quickly stabilised and none of the passengers or crew on board was injured.
The Voyager sailed back to Stranraer where the stricken motor lorry will be removed by crane, before the vessel can be properly berthed to allow passengers and vehicles to disembark.
The tanker was laden with non-hazardous ferrous sulphate powder. Police said the load was fully intact and none of the substance had leaked.
'Full investigation'
He added: "Scottish Environment Protection Agency advice has been obtained in the event any leakage occurs and there is no danger to the public.
"A full investigation into the incident will be carried out by Stena Line and maritime agencies."
Colin Lockhead from Clyde Coastguard said they had been monitoring the situation.
"We put out the Stranraer lifeboat and the Stranraer Coastguard rescue team as well just to stand by the vessel for safety reasons," he said.
"Because of the lorry still hanging from the stern of the vessel it was unable to hook up to the link span at the harbour, so the passengers and vehicles have been unable to disembark from the vessel."
Stena spokesman Nigel Tilson said: "The ship was quickly stabilised and no-one on board was injured - the hole in the back of the vessel was 30ft above the water line."
what a shock to see