Post by Sorento 08 on Jul 1, 2014 15:40:12 GMT
Poole Farm Adults Only (CC-CL) Launceston - Site review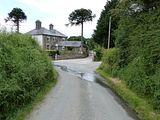 Date visited - June 2014
Unit - Car/Caravan
Price per night - £14.00 incl
This is an "Adults Only" Caravan Club CL (members only) and recently CL of the year, it is located close to the Devon/Cornwall boarder and can be found after driving down a very narrow lane from the main road.
Do not use your sat nav to navigate to this site use the directions in the sites directory or from the owners due to an impassable bridge.
When we visited this site most of the road hedges had not been trimmed which made you more alert and on edge.
This site is approx ¾ acres each pitch is hard standing. Each pitch had its own water tap and EHU point. Facilities for re-cycling were available. Shower, toilet, and chemical empty point with water tap for flushing are contained in a very nice hut. If you intend to use your Aquaroll mains water adaptor, depending on the way you decide to pitch and depending which side your water inlet is, you may need an extension to the standard 7-metre pipe.
The site has a dedicated dog walk, which is also used by campers who sit and admire the views.
There is a B&B available in the farmhouse, but was not viewed during our stay, but would be ideal if you had non-caravanning friends who wanted to be with you.
Great care is needed when using the site approach road; it is very narrow and has no passing places, so the arrival "after 12.00" really needs to be adhered to.
The owner's work very hard to keep this site in a clean and enjoyable state and is a credit to them.
We would certainly recommend this site
Regards
Paul