Post by Sorento 08 on Feb 5, 2016 16:57:08 GMT
I thought this would be helpful to those who suffer from a drooping blind
1) Gently remove the two side LED light fittings these can be eased from behind the main light housing with your fingers (do not pull on the chrome fitting it will damage it) and disconnect the light if it is in your way,
making sure you make a note of the wiring beforehand
. The lights are located in the panel by a plastic serrated stud to the top and bottom centre of the light fitting.
You should see this
Closer view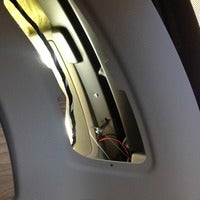 2) Mark the cord with an indelible marker near to the screwed adjuster. (in the photo you can see the amount the cord was tightened)
3) Then holding the loose end of the cord by either fingers or snipe nosed pliers (taking up the slack) loosen the securing nut sufficiently to allow the cord to be pulled through with ease,
(DO NOT LET GO OF THE CORD UNTIL YOU HAVE NIPPED THE ADJUSTER BACK UP)
this should only be done in increments Max of 20mm (if there is that amount of give) tighten the nut back to the required amount to firmly hold the cord. Repeat this on the other side.
4) Check the blind can be pulled down and opened
5) Reconnect the LED lights (if you disconnected them) and replace light unit to panel again taking care not to apply too much force.
Due to the max attachments this site allows I will add the photo showing the tools used to make the adjustment on another post.
HTH's
Paul