Post by Sorento 08 on Jan 11, 2017 21:18:40 GMT
Leicester Hill Wood Caravan Club CL Adults Only
Ulverscroft Lane
Newtown Linford
Leicester
LE6 0AJ
We stayed here to help with visiting my dad whilst he was in hospital having major heart surgery.
This site is very quite and has abundance of wildlife we enjoyed Woodpeckers, Wrens, Jay's, Goldcrest's, Long Tailed Tit's to mention a few.
This site is open all year (at the time of review) has 3 hard standings situated within a wooded surround. The grass pitches have two concrete slabs to ensure a level pitch side ways. TV reception is not good due to the surrounding trees, so take plenty of DVD's or simply enjoy the wildlife around you. The washing up area with toilet and Chemical waste point is well away from the pitches it is lit at night but if you want to use the facilities in the night you will need a good torch and wellies as it has no made up path.
The owners of this site are very helpful and nothing is too much trouble, they have security cameras at the gate so the site is secure.
The only negative point we had was the hard standings are made up of a gritty substance and is brought in to the van each and every time so covers were needed at the entrance door, we accept at the time of year the pitches would be wet and as we were in a wood there would be leaves, that composted down making the ground slippery and muddy.
Water points were well spaced and so were electric hook up points giving this site very spacious.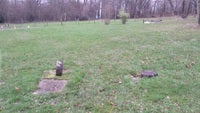 View of grass Pitch Our Pitch Wash up area