Post by Sorento 08 on Jul 2, 2016 20:05:38 GMT
Date visited - June 2016
Unit - Car/Caravan/Awning/Fully Serviced Pitch
Price per night - £12.00 incl
www.hallsdownfarm.weebly.com
This is a Caravan Club Adults Only CL and No Dogs due to being a working sheep farm
The road to this site is good but does have a few places where it is narrow so some care is needed when towing. Some road noise can be heard but we felt it was not too intrusive, as this is a working farm, tractors and other agricultural and vehicles do pass the site sometimes at speed (postman pat for one) this may not be too noticeable on the new CL site (which officially opens 1st July 2016).
There are 4 hard standing and 2 grass pitches situated in 1 acre. All pitches have electric hook ups, mains tap water and grey water drain.
Toilet and sink with hot water and information leaflets are located in the wooden hut next to the recycling facilities and chemical waste.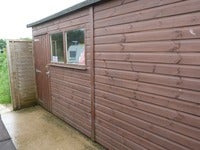 Toilet and wash basin & Information Room Chemical disposal Point



The site is within a short walking distance of the Wistlandpound Reservoir (takes about 45mins to walk all around). A local farm shop is within half a mile of the site which sells the usual farm grown products and ice cream. This site has a few resident animals (other than sheep), at the time of our visit we were amused by the antics of, 2 ponies, a donkey, 2Alpacas, the Pygmy goats and several ducks.
During our stay the owners said they have permission to open a 20 van site, so they have moved the CL to the other side of the farm which have the same facilities as the old site. The new 20 van site will still be Adults Only
The famous villages of Lynton and Lynmouth connected by the cliff railway, and the Exmoor National Park are close by.
The National Trust property of Arlington Court which houses the National Trust Carriage Museum and for a limited time the Speaker's State Coach on loan from the Houses of Parliament, a rare opportunity to see this magnificent coach which was last used formally by the Speaker for Prince Charles and Lady Diana wedding.
www.nationaltrust.org.uk/arlington-court-and-the-national-trust-carriage-museum/features/monitoring-our-special-carriage
(for some reason this link will not open the page, please copy and paste it into your browser to get access, Sorry)
I would certainly recommend this site.
(More photos will be added)