Post by Sorento 08 on Jul 6, 2019 13:21:19 GMT
Pebbly Hill Nurseries CC CL (Adults Only)
Icomb Road,
Bledington,
Chipping Norton,
Gloucestershire,
OX7 6XJ
CL Owner: P G and J E Simms
Date visited – May 2019
Unit - Car/Caravan/Awning/EHU
Price per night - £14.00 incl
Earliest arrival - check with owner when booking
Open: 01 Mar 2019 - 31 Oct 2019
This site is an adults only and set in 1.5 acres slightly sloping, all grass pitches. EHU (10amp) points are located along one side of the field nearest to the house/nursery, with one EHU point along the road to the nursery and farm further along the bridle way. Water tap is located on the Nursery side edge, chemical waste and recycle bins are located at the top side of the field. The road surface up to the site entrance is rough, may be that will be resurfaced after the new build property taking place during our stay will be made good after completion. Please use the caravan club approach details in the book, as if you take the road just after the bridge it is very narrow. We did find it very strange that during our 7 night stay no camper spoke to each other not even to say hello!! My wife said hello to one of our neighbours as they got out of their car but only the lady struggled to reply with an hello, the chap just got out of the car and walked into the van.
The site is ideal for hiking and cycling as it is located immediately on a bridle path with access to seven footpaths. Take a walk along one to the pub in the village, which serves food, incl Sunday lunches, which we were told gets very busy, so booking is advisable, we didn't try it during our visit so cannot comment on the quality/service.
The Nursery is open 7 days a week and can be very noisy if parked near to the roadway or at the lower part of the field near to the poly-tunnels. There is a holiday cottage available.
Other places to visit: Bledington village, half a mile away and offers a bus service and a village pub. Kingham is two miles away with a train station, pubs and a shop.
Stow-on-the-Wold is a short drive away with many shops, cafes and pubs. A short drive from Stow you will find Adam's farm (from the TV Show Countryfile) and many gardens such as Hidcote, Kiftsgate, Mill Dene and Batsford Aboretum.
National Trust properties: Chastleton House, Lodge Park and Snowshill Manor.
Other places worth a run out to are, Bourton-on-the-Water. Burford, which was featured on the TV show Time Team. Just outside Burford is the Cotswold Wildlife Park and Crocodiles of the World.
Overall a very nice site and we would certainly return.
Site Entrance
Recycle and Chemical point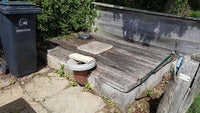 Chemical empty point