Post by Sorento 08 on Jul 6, 2019 13:27:25 GMT
Horse Lane Farm CC CL
Rowde,
Devizes,
Wiltshire,
SN10 2QJ
CL Owner: Mr and Mrs C P Collett
Date visited – June 2019
Unit - Car/Caravan/Awning/EHU
Price per night - £13.00 incl
Earliest arrival - check with owner when booking
Open: 01 Apr 2019 - 01 Oct 2019
This site is set in 1.5 acres and flat, all grass pitches. EHU (10amp) points are located along one side of the field making a need to use extended cable if you want to use the furthest parts of the field, the farm is a working farm so expect farming machinery and cattle noise, it is quite away from the main road but depending on the direction of wind is usually quite. The water tap is located down the drive from the site as is the recycle bins and grey water and chemical toilet empty point. The grass was kept short and collected, so not much grass getting into the van. The owners are very friendly and welcoming. Motor Homers would need to use a hose to empty grey water and also block the drive while they refill the drinking water tank
The site is about one mile from the Kennet and Avon Canal: which has towpaths, which lead to Bradford-on-Avon and Bath to the west or the famous Caen Hill locks to the east – this direction leads to Devizes. A cafe is located at the top of the locks car parking is charged at £1.00 payable at the cafe, signage did show other parking charges but were not in force at the time so worth checking once you have parked, no receipt was given when we went so not sure how they monitor who has paid or not.
Rowde village has two pubs, one shop and an ice-cream parlour/cafe named the Rowdy Cow serving excellent food and homemade ice-cream.
NT Lacock and its famous Abbey (where parts of the Harry Potter films were made).
Supermarkets are in Devizes and Thursday is market day in Devizes. There are tours around Wadworth brewery where visitors can sample the beers and meet the heavy horses that pull the drays around the town.
Overall a very nice site and we would certainly return.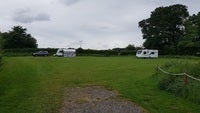 Drive to site
Chemical and Grey water empty point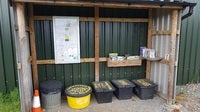 Recycle Point